Supported Causes
Indus Hospital

The Indus Hospital in Karachi, Pakistan provides premium healthcare free of cost to the city's poorest communities. The Indus Children Cancer Hospital (ICCH, formerly Children Cancer Foundation) offers diagnosis and treatment for underprivileged pediatric cancer victims who cannot afford treatment.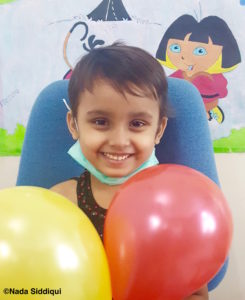 The Rehma Fund has focused on improving the quality of psychological support offered to children undergoing difficult treatment for cancer at ICCH.  We have helped establish a qualified and trained Child Life team who provide active support and counseling to patients and their caregivers. As part of this effort to foster a child-friendly environment, we have also funded the provision of items such as chemo care kits, books, toys, and arts and crafts materials. A child's treatment for cancer is often painful and stressful and items that provide opportunities for distraction and play can provide much needed comfort and relief.
The Child Life effort has had remarkable results and is currently being expanded beyond ICCH to serve the needs of every child admitted to the hospital.
In the true spirit of collaboration, The Rehma Fund has partnered with the Vietnam Vascular Anomalies Center and Indus Hospital in Pakistan to create a Vascular Anomalies Center at the Indus Hospital. The center delivers cutting edge care for underprivileged children suffering from debilitating vascular anomalies and is the first clinic of its kind in the country. The transformative potential for children who are unable to afford care and are burdened by the social stigma of visible skin conditions can be life changing.