Supported Causes
Evelina London Children's Hospital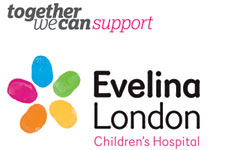 Evelina London Children's Hospital is one of the UK's leading pediatric hospitals. Every day, 300 children pass through its doors.
The Rehma Fund UK supports the hospital's Spiritual Care & Samaritan Fund. The Spiritual Care Team offers comfort, emotional support and a listening ear for families. The Samaritan Fund helps ease the financial strain for families in need who live a significant distance from the hospital or whose child is at the hospital for an extended period of time, helping parents maximize the time spent with their child. The Rehma Fund aims to triple the number of families the hospital is able to help through its Spiritual Care & Samaritan Fund.
We have visited Evelina and met with some of the amazing staff who are responsible for providing care. We personally know the importance of maximizing family time with a sick child in the hospital and having compassionate, experienced emotional and spiritual support. We hope that The Rehma Fund's support will help Evelina to provide both these aspects of care to more sick children and their families.
Please visit www.togetherwecan.org.uk/evelina/ for more information.